I just finished reading The Hunger Games, and I found it quite enjoyable. Looking forward to the film. Anyway, I have been spending copious amounts of time on the internet and watching television these couple of weeks. I am a vegetable. Aaand, one of my coworkers just walked past me with her 20-inch waist, making me feel all guilty and shit.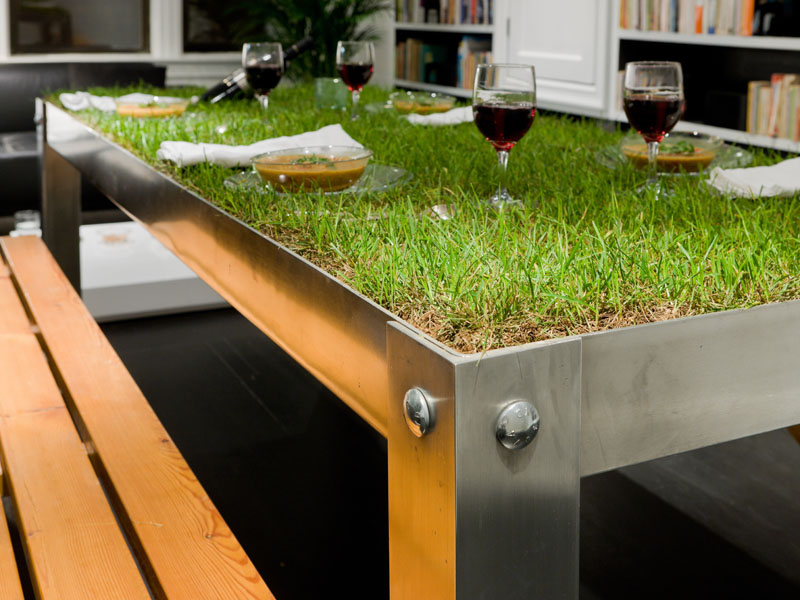 Grass picnic table by
Haiko Cornelissen
, via
swiss-miss
. Completely impractical, but if I were rich this would be mine. Also, I would plant daisies. Oh wait, how awesome would it be to have herbs and veggies planted in the table, that you could just pick whenever?
Kind of like this salad from
Alinea
(via
Luxirare
).
I love ALL the things over at
Wolf & Moon
. Kitschy jewellery is my thing, since I will destroy anything precious. I can't even IMAGINE owning diamonds, or real gold. Or even real silver. Once I had this really nice men's watch from Breitling that my dad bought me, but I kept knocking it against doorways and walls until one of the hands came loose (?!), I can't have expensive things.
New season of
Portlandia
. I love this picture, I don't care if it's parodying hipsters - my whole LIFE is a hipster parody. I want that ship-print cushion so bad it makes my heart hurt.
Speaking of television - OMGOMG!
Community
is back on air in a few months and if it gets renewed for a fourth (and fifth) season then I will declare my undying love to the gods of network television. I love this
poster
so much: Danny Pudi and Donald Glover are the bomb(s) and it's a combination of my two favourite shows (Community and Dr. Who).